Prosertek's DAM Berthing Aid System has been developed in compliance with international recommendations such as:

Sigtto:
1.4.1 DESING OF A SAFE DOCK
The communication between ship/land, is considered vital for the safe transport of liquefied gas, taking into consideration in the design of the dock (with equipment that requires) the good understanding between both. In this context the following points will be taking into account for terminal design
 Monitoring the tension of the mooring lines
 Indicator of vessel speed when it is approaching to the dock.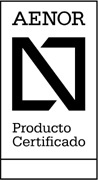 UNE-EN 1532
7.2.5 DOCKING FACILITIES:
The ship must do the berthing safely
9.2.2 MOORING AND FENDER SUSTEMS:
In each mooring hooks should be installed a load pins to measure the tensile force of the mooring line. The measured data by these pins should be transferred to a central computer located at the dock or on land and which allows a remote read of the berthing.
9.2.4 CONTROL ROOM:
For the control room of the berth it is recommended the following equipment:

A measuring station of meteorological data
Monitoring system of the tractive effort in the mooring line