We are continuing our series of articles related to port equipment for LNG terminals. In our previous series, we talked about the basic features of LNG and the important but yet to be discovered role of equipment within a terminal. We are now going to examine the necessary equipment for a LNG platform.
Towards a change in mindset and regulation
Current regulation, or rather the lack thereof, is, as already mentioned, one of the reasons that allows for the existence of LNG terminals that are still poorly equipped. This is due to the fact that, despite the existence of standards and recommendations, there is neither in-depth consideration given to the product nor any thorough classification.
However, certain consulting firms, construction companies, authorities and manufacturers are trying to raise awareness about improving safety and operability. The most illustrative example of this is the recent creation of the working group (Integration of marine equipment oriented towards the berthing and demurrage of ships at docks) CIP-GT06, by the Port Engineering Technical Committee  of the Ports and Coasts Technical Association (ATCYP), the purpose of which is to publish practical guidelines which designers can turn to in order to design safe and adequate berthing facilities.
Measures such as these ones suggest a change in the mindset and the approach of engineers and those in charge of fitting out sea terminals, particularly LNG facilities, equipment and systems with a berthing focus to guarantee safety standards. The fact is that while costs involved in the installation of quality marine equipment may seem high, failing to do this in terms of usefulness and safety is what really costs money.
The following are included in the systems and equipment we are discussing today:
Berthing aid monitoring systems.
Port defence systems.
Quick release hook and bollard-based mooring systems.
Self-propelled access gateways.
Equipment set-up for each platform
In order to find out what type of equipment and port systems are required at each terminal, as well as their layout, a compatibility study needs to be first carried out, which, apart from checking marina access, also involves a check of the viability of inbound operations, mooring, unloading, undocking and departure of a ship in port and terminal from a geometrical viewpoint. This includes attention to elements such as:
The study should also consider environmental aspects, such as winds and swell. And despite being docked, a ship can move according to six degrees of freedom, three translational ones (heaving, sway and surge) and three rotational ones (pitch, roll and yaw). It is also necessary to assess if they are exposed to explosive atmospheres or not and with which classification, as well as the degrees of protection against dust and water.
All these data will determine the amount of equipment, operating ranges, capabilities, features, distribution, etc. required, making these terminal elements compatible with the environment, geometry and the requirements of the vessel to ensure that operations develop in safe conditions.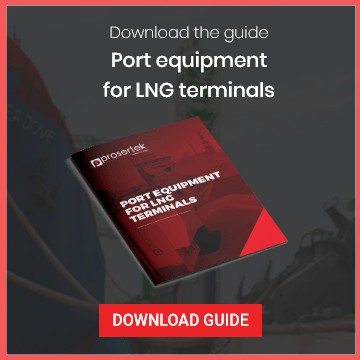 Index of published articles
Port equipment for LNG terminals (I)
Port equipment for LNG terminals (II): moving towards a change in regulation
Port equipment for LNG terminals (III): Docking aid systems (I)
Port equipment for LNG terminals (IV): docking aid systems (II)
Port equipment for LNG terminals (V): Berthing-aid systems (III)
Port equipment for LNG terminals (VI): Fender systems (I)
Port equipment for LNG terminals (VII): Defence systems (II)