The Marcelo Gangoiti Award acknowledges companies that work to create wealth in Biscay, either through investments, job creation, innovation or environmental care. This is one of the most highly-esteemed awards, granted to leading companies such as Bombardier, Navacel, Petronor, Onduline, etc. And in its latest edition, the 22nd, the award was given to our company, Prosertek.
For us, receiving this important award is a huge recognition of the work we have been carrying out for over 25 years. Over the course of these years, we have evolved and become a leading port equipment company.
Held at the end of January, the award ceremony was attended by the country's political, business, academic and social representatives, such as Basque Government Lehendakari Iñigo Urkullu, the Minister of Economic Development and Infrastructure Arantza Tapia, the Minister of Labour and Justice María Jesús San José, the provincial commissioner of Economic Development Imanol Pradales, the mayor of Muskiz Borja Liaño, President of the Business Confederation of Biscay Iñaki Garcinuño, Dean of Deusto Business School and Executive Vice-President of IK4, Guillermo Dorronsoro, the Director of the Somorrostro Training Centre Javier Laiseca, and many more. They all applauded our General Director, Ricardo Hernani, and our Delegate Advisor, Iñaki Lasfuentes, responsible for receiving the award.
Also present at the Somorrostro Training Centre, the location of the event, was our Engineering Director, Gorka Elorrieta, and a large representation of our company's workers and collaborators who wished to attend the important meeting.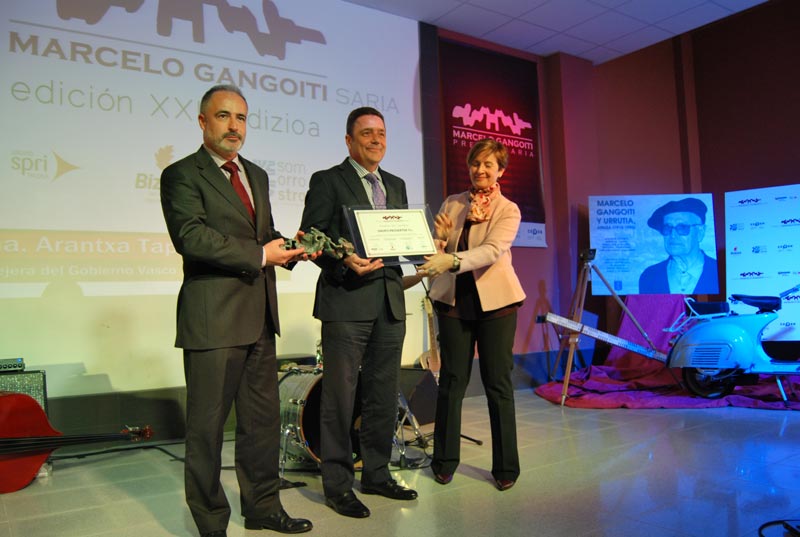 After congratulating our company, the Lehendakari highlighted "the foundation Prosertek was built on, which is safety, solidity, efficacy, comfort and quality. Quite a declaration of principles at the service of competitiveness, and of the community," reiterated Urkullu.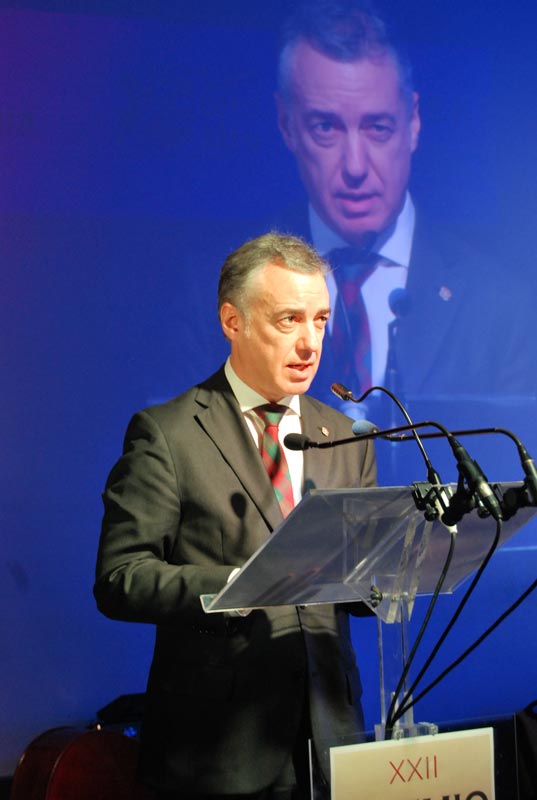 Indeed, quality is what sets our wide range of products apart, as well as our commitment to the highest production standards. This is empirically proven with the port equipment we have developed and manufactured at our facilities, which are successfully in ports all over the world.
The Marcelo Gangoiti Award (which takes its name from the driver behind the Somorrostro Training Centre, which is considered one of the most important VT institutions in the Basque Country) is granted every year to a company that stands out with its business activity, especially in the Left Margin and Mining Zone of Biscay. It is coordinated by the Somorrostro Training Centre of Muskiz (which is turning 70 years old in 2018), and is supported by the SPRI, the Provincial Council of Biscay and CEBEK.