Last 29 March, the new cruise ship terminal at the Getxo terminal, belonging to the Port of Bilbao, was inaugurated. The ship that gave the starting signal for the new terminal was Britannia.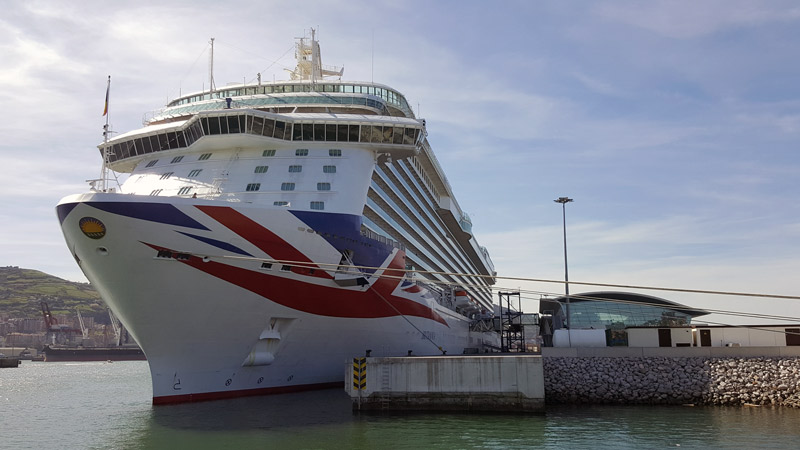 With this terminal, the Port of Bilbao aims to become the point of reference for cruise ships in the north of the Iberian Peninsula. Attending the inauguration was the minister of Economic Development and Infrastructure of the Basque Government, Arantza Tapia, the President of the Port Authority of Bilbao, Asier Atutxa, and the President of Ports of State, José Llorca, and more.
Prosertek at the new cruise ship terminal
The maritime terminal has a cutting-edge passenger boarding bridge, manufactured by Prosertek.
In addition to complying with the strictest regulations in force, this boarding bridge guarantees safe, comfortable transit for cruise ship passengers. Moreover, it has interactive information systems and finishes for a pleasant transit. The boarding bridge provides for transit along the entire dock, and has a practical operational range of over 9 m, with an 8% maximum slope over its 85 m-plus length.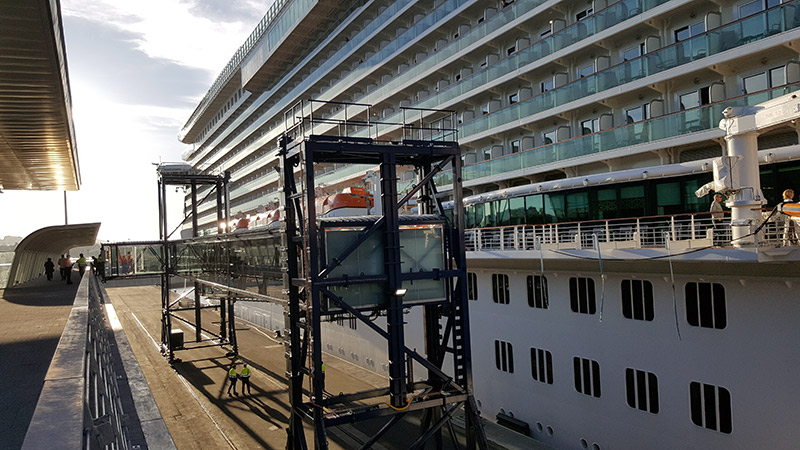 Features of the boarding bridge
As is to be expected, the boarding bridge has active and passive safety systems to protect both the equipment and people. These aspects are very important to bear in mind, given that the passenger boarding bridge joins a fixed element, such as the maritime terminal, with another mobile element, which is the ship. This singular mass can be in constant movement due to several different effects, and the passenger boarding bridge must be able to follow these movements.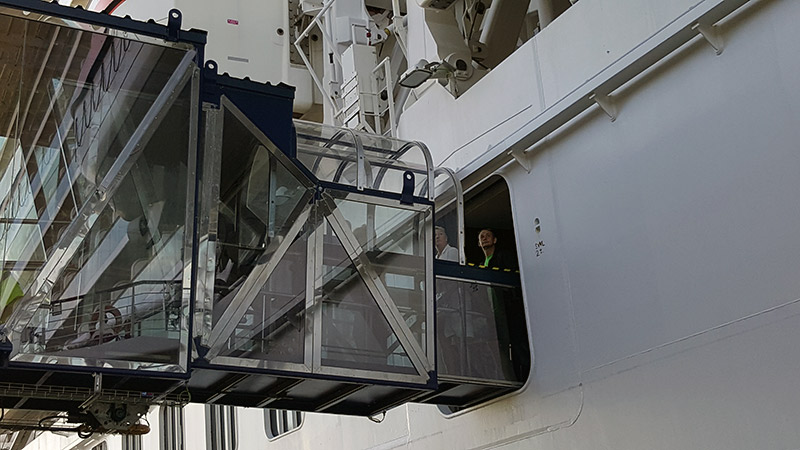 Structurally, the equipment is made up of two tunnels and three modules situated parallel to the dock ledge, based on square-cut trellis beams, whose purpose is to make it possible to travel between the cruise ship and the maritime terminal. Furthermore, it has two elevating tunnels made of structural tubes and profiles, supported on the bottom by rolling sets. This makes it possible for the equipment to move longitudinally along the entire deck, and with the elevation systems on the top part, the modules can be raised, placing them at the required height.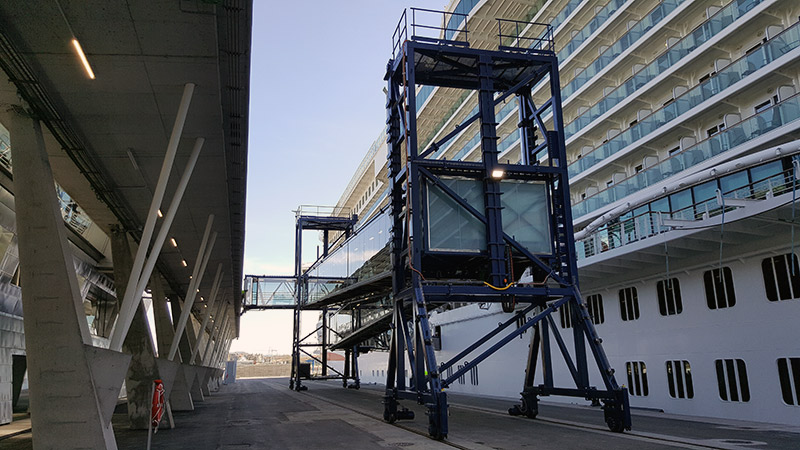 The mechanisms and controls are cutting edge. In addition to making operative ranges heretofore unknown possible, thanks to the operational control systems, it also optimises energy efficiency, with the resulting savings in energy. This means that this bridge is environmentally respectful.