Last 6 April, Prosertek received the Award for Industrial Innovation 2017 at the Kursaal of Donostia, granted on an annual basis by the company Ibermática, to acknowledge "agile, innovative companies that are zealous to expand," in the marketing director's words.
This event, dedicated to our area's Industry 4.0, brought about 250 people together. In addition to the award ceremony, we enjoyed a round table with the participation of companies Ternua, Ibarmia and Pierburg, as well as presentations by Ibermática and its German partner, DPS Software.
Along with Prosertek, the company Microdeco also received the award, a recent winner of the Gold Q in Vitoria-Gasteiz.
Ricardo Hernani's Speech
When he received the award, Ricardo Hernani, Managing Director of Prosertek, highlighted the following in his acknowledgement speech: "I would like to cite a well-known quote at this moment. The one that says, there are no rewards or punishments. Only consequences: consequences for hard work, for the course chosen, for the passion invested, for the travel companions selected. There are no rewards or punishments. Only consequences. On behalf of Prosertek, I would like to thank all of you here, and especially Ibermática, for this so very beautiful consequence."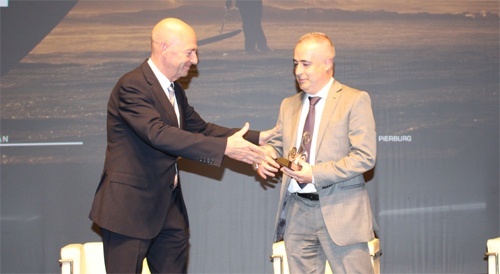 Jose Iraolagoitia, Managing Director of Microdeco, also had a few words to share when receiving the award: "We aren't exemplary or a role model in what we do, but we are very sure about where we want to go. Toward Industry 4.0, which sets us apart."
Other speeches
Other sentences worth remembering from the event were stated during the participants' different presentations. For example, Josef Kammermeier, from the German company DPS, said that "Bavaria and Euskal Herria could be twins in all aspects: landscape, people, seriousness, industrial network… But there is one thing that sets us apart: we're faster."
Javier Etxebarria, Director of Ibermática Industria, invited us to the action "Paraphrasing Baroja, who was born near here: 'Walk thinking,' more 'doing', while thinking." His colleague, Joseba Ruiz de Alegría, Managing Director of Ibermática, highlighted some of the reasons why innovation is essential for all companies: "Whatever your business may be, today, there are always two guys in the garage trying to screw it all up."
Furthermore, Ainhoa Aizpuru, Minister of Economic Development of Gipuzkoa, mentioned the changes undergone by the Basque business network: "While the average lifespan of companies in the 40s was 75 years, today, it is 15 years."
Aitor Barinaga, Corporate Operations Director of Ternua, commented that "we are competing against huge monsters, with countless competitors of all kinds. We cannot base our strategy on being the cheapest. There will always be someone cheaper. We have to focus on innovation and empowering the brand."
In short, the event provided for interesting speeches on innovation, the industry's evolution and competitiveness in the digital age.