As part of our social work, Prosertek is a co-sponsor of the ARC1 league regatta, a competition held in the waters of Noble Villa de Portugalete. What is more, as of this year we have also been closely collaborating with the Portugalete Rowing Club as official sponsor of the institution and its popular trainera (racing rowboat), La Jarrillera.
This relationship falls under a framework of stable, three-year work, because we consider that both institutions share the same values.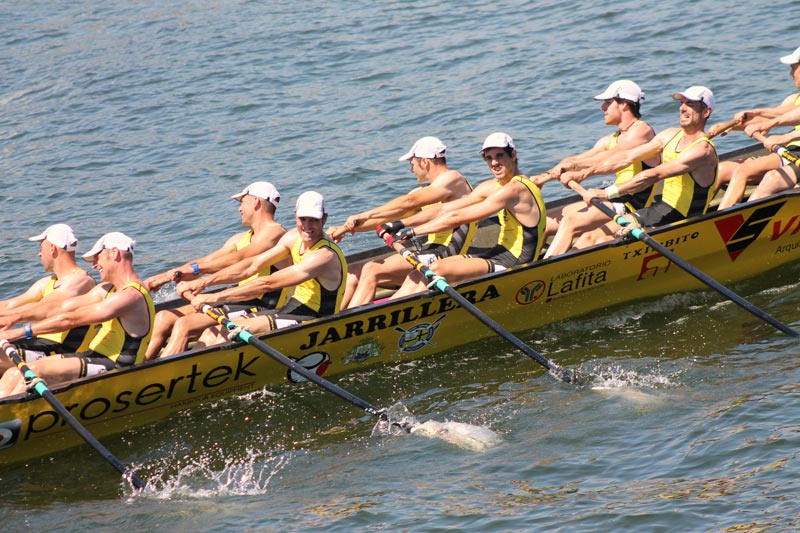 The Portugalete Rowing Club officially celebrated its 100th anniversary last May. The regattas began in 1917 in El Abra, where the Portugalete crew, on board the trainera Engracia, took second place. However, documents saved in the Portugalete Historic Archive stated that a trainera from the town competed in a fraternity regatta in 1892.
Much has happened since then: different watercraft, different crews (men's and women's), different sponsors and different regattas. And a constant throughout the years is excitement, effort and love of the sport.
This is why, here at Prosertek, we want to thank these elite athletes for the beautiful show they offer, emulating the old fishermen of the Basque Country, with one of the most physically demanding sports, where both explosion and depth are combined.
A bit of history
And now we need to look back to discover where these regattas and the passion for traineras come from.
Fishing has been a fundamental part of Basque industry, economy and food since time immemorial. During the 19th century, there were three types of coastal fishing boats used, depending on the species being fished: the dinghy or kalera, the trainera and the large dinghy. The traineras needed to be fast, even at the expense of stability, to provide for fast turns while fishing and reaching port as soon as possible, before more fish arrived that could lower the price.
These fishing traineras gave way to the estropadas, or regattas. As is customary with rural sports, they are a result of challenges; challenges recorded both in bertsos (improvised verses in Basque) and in period publications.
The importance of this type of craft, first as a fishing tool and now as a traditional sport tool, is the symbol of UNESCO seafaring treasures, the Nao San Juan, a Basque whaling ship that crossed the Atlantic all the way to Ternua (Terranova), in search of whales over 500 years ago.
A craft, the trainera, which, thanks to the effort of new generations and the collaboration of companies and institutions, remains alive and kicking.