The National Consortium of Rubber Industrialists held its annual convention and its 95th Ordinary General Assembly a few days ago in Zaragoza. Under the framework of this important meeting, the 23rd Rubber Sector Technical Workshop was held, attended by Prosertek.
Organised by this business association, the workshop was held 1 June at the Technological Institute of Aragón , ITAINNOVA, under the motto "connected rubber 4.0."
This workshop aimed to inform, prepare and train all actors from the rubber sector in relation to the digitalisation of this sector's industry, "since the designation '4th industrial revolution' is no longer a future challenge, but rather a current reality," as explained by its promoters.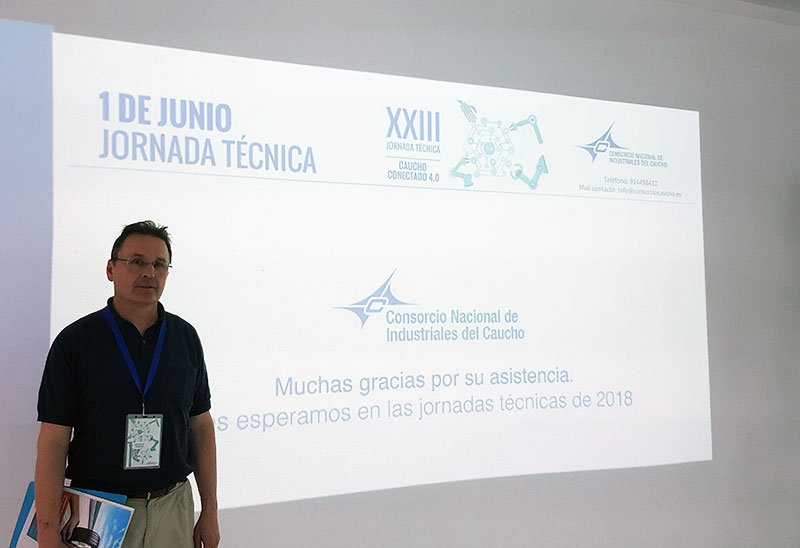 Presentations and meetings
The workshop itself began with presentations given by Ángel Fernández, director of ITAINNOVA, and by José Luis Rodríguez, director of the National Consortium of Rubber Industrialists, then continued with a round table coordinated by members of the Basque Association of IT and Electronics Industries (GAIA).
During the round table, alliances for digital transformation in the Rubber Industry were introduced: smart processes, products and services, as well as digitalisation of data in industry 4.0 processes for connected products. Moreover, topics such as industry 4.0 trends in the rubber used with automobile manufacturing and industrial big data were addressed.
Attendees also had the opportunity to discover how digitalisation takes place in the chemical industry, or in recycling tyres for manufacture of thermoplastic elastomers.
After the debate, more speeches and presentations were given by domestic and international companies such as Michelin, Standard Profil Spain, REP internacional, SIEMENS, Birla Carbon Spain, Nynas, Hoffmann Minera, SIGNUS systems, the platform CrowdSourcing Ennomotive, and technological centres ITAINNOVA, the Technological Institute of Children's Items and Entertainment, and ICTP-CSIC.
As explained by event organisers, some of the conclusions drawn from the meeting with rubber sector professionals are that "it is essential to guarantee cyber-security" in a connected industry, and that "the market is headed toward personalised products."
Although Prosertek is a member of the innovation cluster ASICE (group of innovative companies in the rubber sector), the meeting in Zaragoza with companies and associations from the rubber sector was so important that Prosertek was also "obliged" to attend, in order to discover new developments and projects of other companies and associations. For example, the knowledge obtained can be used in manufacturing fenders such as the IV fenders, HZ fenders, TCN fenders and SC fenders, in addition to other product lines we offer our clients.