While ship-to-ship operations are very common in maritime trade, they pose certain risks. Let's have a look at why STS operations are so much in vogue and how to minimise any of these risks through the use of appropriate fenders.
It is firstly important to understand what a ship to ship (STS) operation is. It involves a merchandise exchange operation between two ships that are side by side that can be stopped or even moving. It occurs in the following situations:
Between tankers (oil and gas).
In large vessels whose draft prevents them from docking in a port or dock to unload there.
STS operations are recommended whenever a port or terminal becomes congested, therefore preventing any bottleneck.
Bunkering operations for the transfer of fuel.
This operation is therefore becoming more and more common since new ships are getting bigger and the terminals are often not prepared to receive them. It is also very economical and fast, since it eliminates docking costs as well as the time spent at the port.
One disadvantage is the environmental and fire risk due to the fact that the boats are not moored, increasing the possibilities of spillage during the operation. There is also a danger of collisions between ships that could cause damage to the hulls.
These STS operation risks can be minimised with:
Proper crew training.
Advance planning taking into account the information about the cargo, the technical specifications of the ships, etc.
Establishment of a communication channel between vessels.
Fire and spill extinguishing equipment.
Navigation aids systems using PPU
Pneumatic fenders for STS operations
One piece of equipment is a must during the STS operation approach and mooring stage. We are talking about fenders, which prevent serious damage to ships if they are high quality and are correctly installed.
The ideal fenders for STS transfer operations are pneumatic. Quick and easy to install, these fenders ensure that safe distances are maintained between vessels, absorbing impacts.
Prosertek Pneumatic Fender Systems
Prosertek supplies a wide variety of fenders for STS operations, including:
FL-N type fenders
Characterised by their high degree of compressibility and elasticity, these fenders work with berthing angles up to 15º and exert low pressure on the ship's hull. They are therefore ideal for ship-to-ship operations. A pneumatic mesh can also be added on for demanding applications. They are very easy to install since they can be deflated to be repositioned somewhere else and they come in a wide range of dimensions.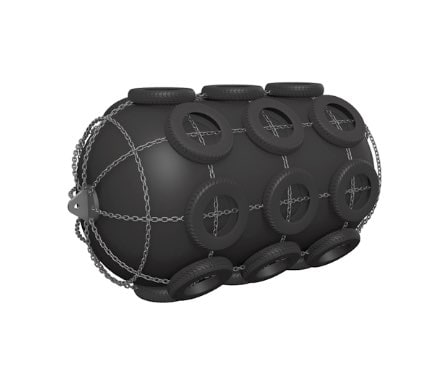 FL-E type fenders
FL-E fenders are also excellent at absorbing impacts, exerting a very low reaction force. This is possible thanks to their (polyethylene) foam core, polyurethane coating and nylon thread reinforcement. These fenders are unsinkable and have greater durability, since their coating resists wear and tear and leaves no marks on the hulls of the most delicate ships thanks to not requiring any pneumatic mesh.