Last 7 and 9 of February, our colleague Gorka Elorrieta, Technical Director at Prosertek, gave the course on Specialisation in Maritime Equipment and its Environment, at the privileged site of Cartagena de Indias (Colombia). Gorka has plenty of experience in the industrial world and in designing, manufacturing and installing maritime equipment. He is accredited by the Instituto de Enseñanza Secundaria Náutico Pesquero de Pasaia (Secondary Nautical Fishing Teaching Institute of Pasaia, Basque Country) to teach International Maritime Equipment Technician courses.
The course was opened and sponsored by COTECMAR (Science and Technology Corporation for the Development of the River and Maritime Naval Industry of Colombia) and IPIN (Pan-American Institute of Naval Engineers). This training is indispensable for those in charge of designing, manufacturing, inspecting, maintaining and operating the maritime equipment needed for port maritime activity, as well as compatibility for the ship and terminal, bearing the requirements from different regulations on maritime equipment in mind.
Attendees came from different countries (Colombia, Panama, Spain, Ecuador, Chile, Argentina, etc.) who came to representing different engineering and construction companies and terminal operators: Cotecmar, IPIN Colombia, GPC Tugs-Contecar, Moffat & Nichols, Coremar, Buzca Ingeniería, Bam Internacional, Puerto de Santa Marta, Iconsa, Prdw, Intercoastal, Fundaciones, Oiltanking, CCTO-APM Terminals, Astinave, Ecopetrol, SPEC (Promigas).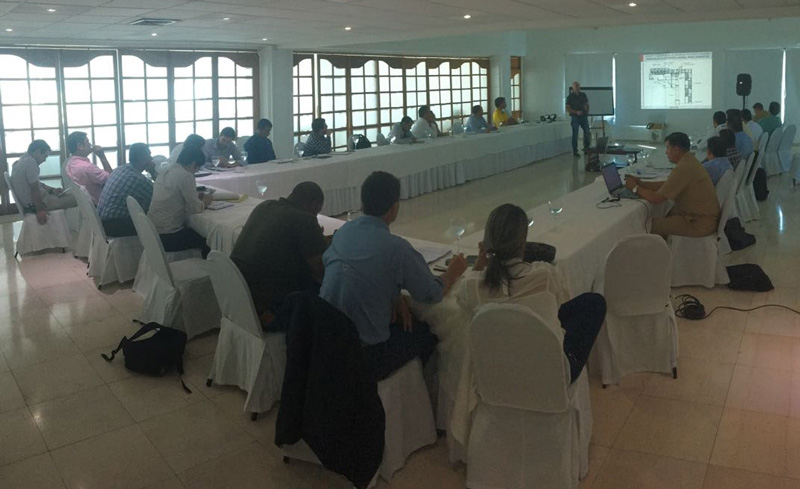 Course programme
The syllabus provided for analysing and studying the main maritime equipment at a technical level (bollards, quick release hooks, floating and fixed fenders, footbridges to access ships, marine cranes, monitoring systems, etc.), all while addressing topics such as quality assurance, influence of maritime climate on mooring the ship and equipment preservation.
Given the high degree of participation, as well as the diversity and level of participants and their end satisfaction, we deem this training as highly successful. Thanks to the interest and participation of attending professionals, we could analyse and study real cases that enriched the training's content.
Moreover, this meeting facilitated the exchange of knowledge amongst participants, encouraging relationships and contacts that bring the promise of interesting joint actions in the future and, in short, created new synergies amongst attendees that were both enriching and highly satisfactory.
Attendees received a diploma of attendance to the Medium-Level International Maritime Equipment Technician, and are also recognised by the Instituto Panamericano de Ingeniero Navales IPIN-Colombia (Pan-American Institute of Naval Engineers).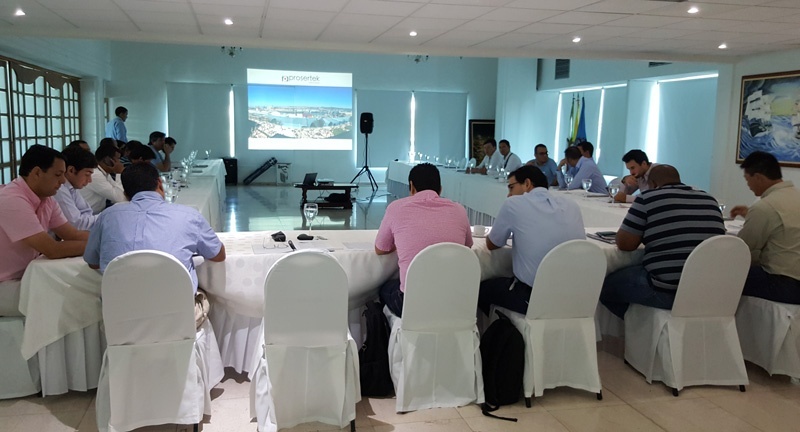 Prior editions
This is not the first time Prosertek has given this course. As we already announced in this very same blog, last year we had the opportunity to teach it at the Instituto de Enseñanza Secundaria Náutico Pesquero de Pasajes (Secondary Nautical Fishing Teaching Institute of Pasajes) itself, as well as in Havana (Cuba), along with IPIN and the classifying company RCB (Cuban Ship Registry).