Our series of articles on LNG equipment is moving on to look at fender systems. An essential protection mechanism for berthing and one of the fundamental parts of any basic port infrastructure in terms of minimising accidents and damage, both on board and at the port.
What is a fender system?
Fender systems are the elements that are visible at LNG terminal quays. They are attached to the docks or pilings and their main function to ensure the safe docking of ships and without causing any kind of damage either to the ships or to the dock installations themselves.
They are basically the point of contact between the dock and the ship and their function involves buffering the docking of the ship. They have an elastic element (elastomer) for this purpose, which absorbs the kinetic energy developed by the ship during docking, yielding as low a reaction as possible. It should also protect the ship and the dock from the forces generated during the docking operation when the ship is moored.
The fender system must cover the surface necessary to ensure that the ship does not bang against the dock, taking into account factors such as the difference in tides, hull shape and the length of the ship. A sufficient number of fender to ensure contact during bow and stern must also be installed to ensure that there is no risk of contact with the dock structure for the curved parts of the ship.
Criteria when choosing a fender system
There are basically a couple of physical criteria to be evaluated when choosing the most appropriate fender system.
The fender system's absorptive capacity of the kinetic energy created by the ship, which must be greater than the one set for normal docking.
Reaction force created by the fender system's elastomer toward the ship. Must be less than the ship's allowable limit. Therefore, an area corresponding to the fender, which is the contact area with the ship, must be measured up. This is the reason why the fender system's elastomers are represented by reaction-deflection and energy-deflection curves.
Buckling fenders, the most functional out there
There are different groups of fenders, each of which have several types. However, the buckling group must be considered for LNG terminals, and within this group, the TCN (truncated cone-shaped) and SC (tubular) types. These types of fenders are very highly recognised, thanks to their simplicity, robustness and functionality.
Buckling fenders are designed to improve the performance curves of the elastomer. Buckling occurs during the deflection of the elastomer, resulting in a decrease of its reaction strength. Another feature of these elastomers is their steel flanges embedded in the mounting points, contributing to the rigidity of the fender system.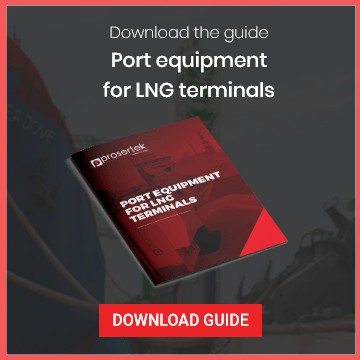 Index of published articles
Port equipment for LNG terminals (I)
Port equipment for LNG terminals (II): moving towards a change in regulation
Port equipment for LNG terminals (III): Docking aid systems (I)
Port equipment for LNG terminals (IV): docking aid systems (II)
Port equipment for LNG terminals (V): Berthing-aid systems (III)
Port equipment for LNG terminals (VI): Fender systems (I)
Port equipment for LNG terminals (VII): Defence systems (II)