As you must already be aware, LNG are the initials for Liquefied Natural Gas, a fuel which, in addition to energetic self-sufficiency, offers the possibility of reducing atmospheric pollution, improves the energy efficiency of newly-created ships, and more. To this end, demand for regasification off-shore terminals is increasing.
Those of us at Prosertek want to share our experience in the port industry with a series of articles revolving around port equipment for LNG terminals.
New energy scenarios lead to LNG terminals
With the current scenario of energy dependency, to guarantee economic prosperity and well-being, energy security, meaning trust in a stable and affordable supply, has become vital for countries.
To achieve this trust, endangered by the use of energy as a diplomatic weapon, consumer countries are seeking to diversify supply to reduce dependency on specific countries. Thus, new scenarios are emerging, leading to a change in classic energy markets.
The role of offshore LNG terminals is essential in this paradigm shift. Thanks to its flexible transport, connectivity between departure and arrival points, and decreased commercial easements, LNG is one of the greatest alternatives for worldwide energy supply.
Moreover, this fuel was recently benefited by international environmental agreements. Not only is it efficient, LNG is also a weapon to reduce environmental pollution and climate change. It is therefore not surprising that energy companies are getting behind it, leading to rapidly-expanding use, especially in the sea industry, with the IMO also lending its endorsement.
Port equipment, at the heart of LNG feasibility
This support is already noticeable in the dramatic increase of LNG ships, as well as their increased size and, of course, the construction of sea terminals to provide refuelling service. They provide storage, distribution, logistics and bunkering, and must be designed according to fleet requirements, complying with security and operational requirements. Within this context, port equipment plays a star role.
Port equipment are systems and equipment designed to aid when berthing and docking, with fenders against the ship's impact with the terminal, with securing systems for the ship, and providing ship-land passage for the crew. These systems are strategic and essential for a ship to berth and then refuel.
However, there is great lack of knowledge regarding this equipment, and its role sometimes undervalued. Thus, some might fall into error, not granting the attention the equipment deserves, leading to low-cost port equipment, below the category an LNG terminal requires, or even terminals with notable shortcomings in some of these systems.
This is why this series of posts will provide an exhaustive report on the type of equipment an LNG platform must have to be in step with the security requirements that a terminal with these characteristics needs.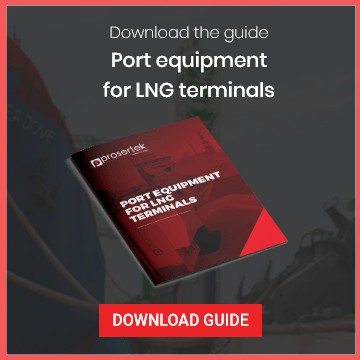 Index of published articles
Port equipment for LNG terminals (I)
Port equipment for LNG terminals (II): moving towards a change in regulation
Port equipment for LNG terminals (III): Docking aid systems (I)
Port equipment for LNG terminals (IV): docking aid systems (II)
Port equipment for LNG terminals (V): Berthing-aid systems (III)
Port equipment for LNG terminals (VI): Fender systems (I)
Port equipment for LNG terminals (VII): Defence systems (II)