The current situation and future challenges faced by the maritime sector were the two main ideas that the II International Maritime Congress focused on, held last week in Bilbao. An event organised by the Biscay Association of Masters of the Merchant Marine (AVCCMM), the University of the Basque Country (EHU/UPV) and  Bilbao Port, with the support of the Town Hall of the Biscay capital.
Over the course of three days, from the 16 to the 18 May, in addition to sea captains, representatives from naval construction, fishing and cruise ship industries, technological companies, port management, port equipment and installations, insurance companies, logistics companies, organisations related to health services, educational institutions and more, participated. Together, the debated the needs, standards and procedures related to the sea transport world and the naval industry in general, "in order to adapt our organisations to an increasingly competitive and demanding sector," as stated by Asier Atutxa, president of Bilbao Port.
Port equipment
Prosertek also attended this international maritime sector meeting. In fact, our Technical Manager, Gorka Elorrieta, offered attendees the perspective of a company specialised in port equipment with his speech "The current need for a future safe and competitive ship-land interrelation."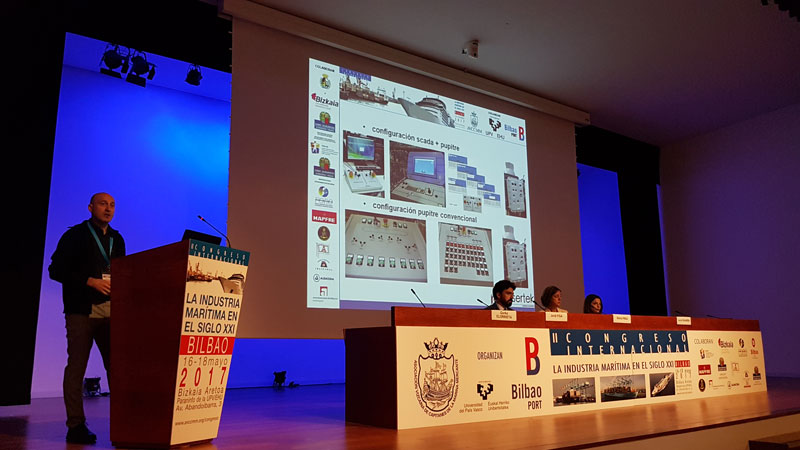 Elorrieta pointed out the importance of maritime trade between different countries with a growing need for larger ships with more tonnage. This is why ports must be prepared to meet the needs of ships, the people that work on and for them, and the different industrial processes involved with the infrastructures required for their berthing, stay and services.
According to Prosertek's Technical Manager, this positive evolution in maritime transport of goods and people requires the adaptation and renovation of maritime ports and terminals in terms of safety, the environment and operations. This is where maritime equipment is reaffirmed as essential.
Different terminals, different needs
LNG terminals (Liquified Natural Gas), floating regasification and/or storage terminals (FSU/FSRU), oil product terminals (refined/raw/LPG), phosphate terminals, bulk terminals, fuel logistics terminals, solid bulk terminals, dry docks, container terminals, cruise ship and ferry terminals, etc. They all have their own equipment and infrastructure needs, because they need to be compatible with the ship's geometry to guarantee that operations are conducted under safe conditions. Some of the most noteworthy equipment in this regard includes berthing aid systems, bollards, quick-release hooks, fenders, and access gangways both for the crew and for passengers on cruise ships and ferries, marine cranes, etc., manufactured with materials designed to withstand marine environmental conditions, tough and versatile.
Indeed, versatility is what characterises the wide range of products offered by Prosertek, designed and manufactured to meet the specific needs of each one of our clients. Moreover, we ship and install these clients' orders anywhere in the world.