We continue looking at the different docking aid systems in our series of articles on LNG terminal port equipment. Following the introduction to the docking monitoring and mooring tension systems, we continue looking at the technical details of the modules that this type of equipment is composed of.
BAS: Dockmoor-RR (Remote hook release)
This module allows the automatic release of the mooring lines, both locally and remotely. The system has a series of interactive screens that are controlled and monitored from a console deck with control units. The module is composed of a device with cables and cable runs, actuators, control boxes and communication boxes.
The system is activated from the deck where you can also choose to release either locally or remotely. Local mode is activated from the local control units on the quick release hooks, while remote mode is activated using software, by selecting the mooring lines to be released and validating the release from the deck. There is also often an emergency button to release all the mooring lines at once, if necessary.
BAS: Dockmoor-ER (Environmental conditions report)
This module aims to measure and record the environmental variables. It captures the information through meteorological sensors and represents the data in real time on the screen. There are two display modes: one consisting of a meteorological data bar that is displayed on all screens with the parameters pre-selected by the user, while the other one is a specific display with graphical indicators.
This module can incorporate several variables, starting with wind speed and direction, which is the most essential due to their enormous impact on the manoeuvres. It is clearly the highlight of all the module's meteorological readings, which also include the rain reading (rainfall), relative humidity and air pressure, visibility, and solar radiation, to name a few.
Another type of data is those derived from marine climate, such as current direction and speed, wave height and period, tide or water temperature.
Independent buoys can be strategically placed in the bays or channels that are connected to the system by radio in order to complement the module's effectiveness.
BAS: Dockmoor-FP (Performance of the defences)
This module is used to measure and record the deviation of the defences during the docking and mooring stage. The system works using measuring lasers and a database with the defence characteristics. The display will represent data and graphs in real time that are relevant to the status of this port equipment.
BAS: Dockmoor-ModBus (Communication with DCS)
The purpose of this module is to integrate applications within the DCS (Distributed Control System). The Modbus TCP/IP protocol standard is set in order to ensure proper communication, regardless of the manufacturers that will manage multiple connections and devices simultaneously. The priority parameters to be sent to the DCS will have already been defined, to prevent problems arising from the volume of information.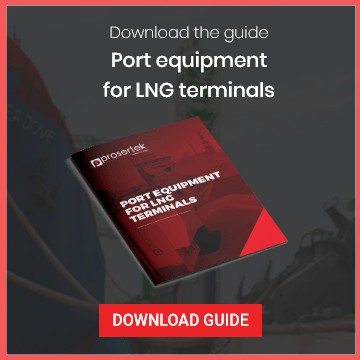 Index of published articles
Port equipment for LNG terminals (I)
Port equipment for LNG terminals (II): moving towards a change in regulation
Port equipment for LNG terminals (III): Docking aid systems (I)
Port equipment for LNG terminals (IV): docking aid systems (II)
Port equipment for LNG terminals (V): Berthing-aid systems (III)
Port equipment for LNG terminals (VI): Fender systems (I)
Port equipment for LNG terminals (VII): Defence systems (II)