According to a new study by Transport & Environment (T&E), Rotterdam is the leading European port in terms of traffic, and is associated with almost 14 million tons of CO2 per year. This makes it the largest industrial polluter in Europe. Antwerp, with 7.4 million tons of CO2 (a potent greenhouse gas) per year, and Hamburg, with 4.7 million tons of CO2 per year, are in second and third place, while three of the top 10 most polluting ports are in Spain: Algeciras (4th in the ranking), Barcelona (5th) and Valencia (7th). Spanish ports are responsible for the emission of almost 14 million tons of carbon dioxide. Furthermore, in another report related to port emissions, it names Barcelona, Palma and Venice as the most polluted cities due to the fact that they are popular destinations through which a significant number of cruise ships pass in Europe each year. The data speak for themselves: Barcelona, with 32.8 tons of sulfur oxide; Palma in second place, with 28 tons of these emissions; and in third place Venice, with 27.5 tons.
The study analyzed carbon emissions from ships leaving and entering ports, as well as emissions from port activities such as loading, unloading and refueling. It called on Spanish ports to help reduce the climate impact of shipping by doing things like supporting EU-wide efforts to reduce port emissions.
Container shipping rates have risen sharply as trade has recovered after COVID, but available data show that ports were already handling a lot of goods before the pandemic and volume nearly doubled between 2012 and 2019 at the port of Barcelona. Container shipping profits hit a record high in 2021, with shipping lines posting profits rivaling Apple and Facebook, and ports had a very favorable year.
In statements made by the head of sustainable shipping at T&E, Jacob Armstrong, he says that the shipping industry currently generates a significant amount of revenue; and that ports are at the center of it all and their climate impact is significant. However, he believes that various proposals to clean up shipping are not being supported: such as the total electrification of ports and green fuel regulations. In addition, he points out that many European ports are the ones that are hindering efforts to green the industry and make it more environmentally friendly.
These ports have joined the World Shipping Council, the global lobby group of container shipping companies, to reduce the geographical scope of the European Commission's proposal to include shipping in the Emissions Trading Scheme (ETS). The petition aims to exempt up to 100 million tons of CO2 emissions from the ETS and around 70 million tons from containerized shipping operations.
The ports defend their position to lower the ambition of the EC proposal on the ETS for maritime transport by warning of the possible risk of "carbon leakage". This would mean that ships can unload in ports in countries close to EU countries, to avoid having to pay the full cost incurred by the carbon trading system for the CO2 emissions they cause due to imports into the EU. Previous investigations by T&E and the European Commission have repeatedly denied these claims, as they consider the risk to be minimal.
The data on emissions from ships in port are conclusive: they confirm that Spain is the second country in Europe with the worst emissions data resulting from port activities such as loading/unloading and refueling. 
RANKING BY COUNTRY OF CO2 EMISSIONS FROM PORT ACTIVITIES 
CO2 emissions (Kt)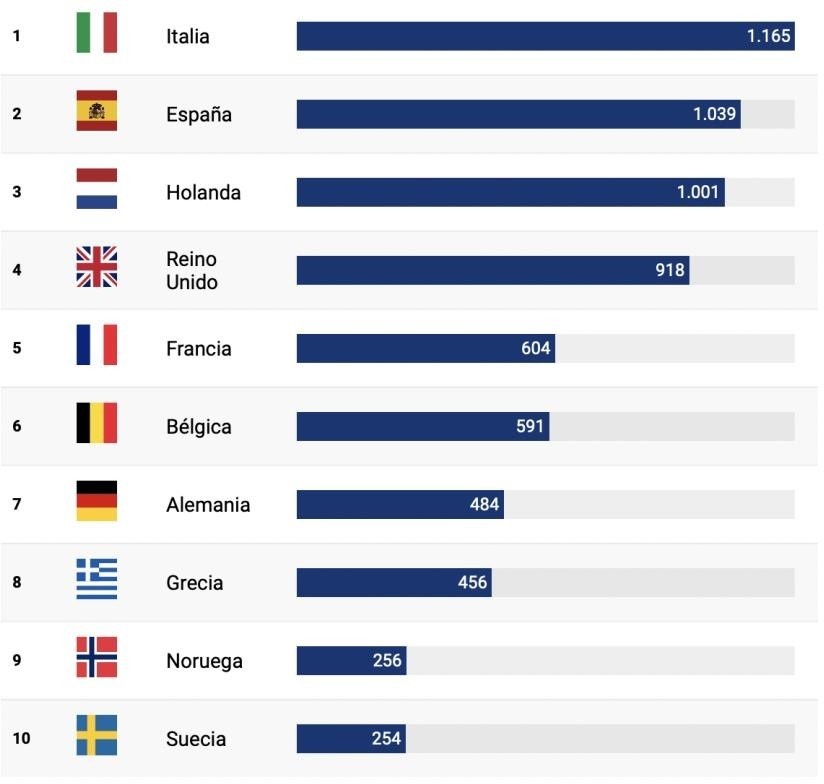 T&E is calling for a very important CO2 reduction measure: the electrification of docks. This is a measure to allow berthed vessels to connect to the port's power grid and use electricity for their operations, instead of fossil fuels for auxiliary engines). All of this significantly reduces port pollution. In addition to CO2, ships emit large amounts of harmful pollutants such as nitrogen oxides (NOx) and sulfur dioxide (SOx). As with the CO2 reduction measures, the port lobby also opposes these dock electrification measures, which it considers too draconian.
According to statements by T&E's spokesman in Spain, Carlos Bravo, ports could help to make life on our planet more sustainable if they at least supported the development of dockside electrification infrastructure, which would allow ships to switch off their internal combustion engines and reconnect to the grid when at anchor, also resulting in significant savings. Moreover, this measure would greatly improve the lives of people whose homes are in the vicinity of ports, which are currently among the most polluted places in the world.
During 2021 and 2022, the debate on EU legislation on green infrastructure (AFIR) was opened in the European Parliament; a final text was available by mid-2022. In the present day, T&E continues its work to call on ports to support the electrification infrastructure proposal.